---
The birth of A Class Catering
---
 One night in 2005 two good friends were enjoying a quiet beer. They were reminiscing about great times in the hospitality industry. The conversation continued to how the industry had changed and the many facets that still needed to move forward to cater for the fast-paced lifestyles of today. The night continued as Steve and Martin came to the realisation that they had a special combination to offer. And so A Class Catering was born on the premise of providing a memorable dining experience, including full silver service with your own personal chef and Maitre D with all the little details taken care of for you. now after the many years of catering  for weddings and Fine dining dinner parties A Class catering can offer you, that confident feeling, that by booking Steve & Martin for your next function, you can guarantee a function you will remember for ever, Based in Shellharbour, we provide Great food and personal catering service for Weddings, Fine dining dinner parties and celebrations on the NSW South Coast from Wollongong  to Jervis Bay, including Kiama, Gerringong, Gerroa, Berry, Kangaroo Valley Southern Highlands we also travel to Sydney and Penrith
So feel  free to contact us aclasscatering@gmail.com or call Marin 0411114912
Steve
Steve is an internationally experienced Personal Chef with experience at prestigious restaurants such as Towers restaurant in Penrith. Steve has developed incredible food experiences as Executive Chef at the Old Bailey in London and delighted travellers at The Snow Goose in Adaminaby as Manager and Head Chef. Steve has turned his considerable talent and passion for food to providing amazing dishes for you and your guests. If you are hosting a wedding or creating the ultimate dinner party, Steve can provide menus from beautiful fine dining to a gourmet seafood BBQ to perfect cocktails and finger food.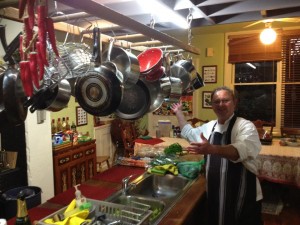 Martin
Martin's passion for excellent service shines through in every guest he seats. He can make every dinner guest feel special and can deliver stunning silver service. His experience includes time as the Head Waiter aboard the QE2 Columbia Restaurant and other cruise ships including P&O's Oriana. Martin has perfected the ability to accommodate and exceed the expectations of diners. Martin worked for many years as maitre d' of Barnaby's Restaurant in Sydney.  2 years as Function Manager of Green Mount Beach Resort has developed his ability to create unique and special events. Martin excels at providing a perfect presentation of your meal and dining entertainment.  Martin is also a certified trainer of Hospitality at TAFE NSW.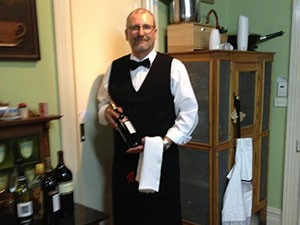 ---
Both Martin and Steve have worked provided their stellar service to politicians and celebrities. Their passion is, however, providing amazing meals to friends, family and their clients all with the same five-star silver service.
When it comes to planning your function wedding, or exclusive silver service dinner party, Martin and Steve are the real deal. We will personally work with you from the beginning to ensure your dinner party or function goes off without a hitch. Remember it's not just a dinner party or function - it's your special event that you and your guests will talk about forever.  Martin and Steve will take the hassle out of the planning, so that you, the host, can enjoy the evening without a worry. 
Our Friendly staff have worked for us for many years and will go out of there way to make your Dining experience second to none
We only use fresh local produce, as outside Caterers, we only cook fresh on the day, 
Bar and Restaurant consutants
Bar and Restaurant Consultants, Starting up a new Restaurant or Bar, Coffee Shop, Cafe, Pizza Restaurant, Cocktail Bar, or any Food outlet , can be extremely daunting, So much to learn so much to organize Marketing, Social Media, Bookkeeper, Bar, Chef, Staff, Training, ordering, and the list goes on You will not need to feel alone, why not contact Martin and Steve, from A Class catering We have been in the Hospitality industry for the last 40 years, during that time we have worked in many Restaurants Hotels, Function Centres, Bars and of course running our own successful Catering Business Meet your Bar and Restaurant Consultants As you can see, we have the Knowledge and experience, so why not put us to work, and let us help you in your transformation of your Restaurant or Bar becoming a Huge success Please feel free to contact Martin and Steve 0411114912, you wont regret it